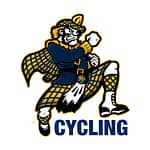 Highland Park Scots Cycling Team is a mountain bike team for students grades 6 through 12. We race in the Texas NICA league.  Go Scots!
Get to know the coaches behind the Highland Park Scots. 
Rick Mabus
Rick's love for riding started in Middle school after seeing the movie 'American Flyer' and continued in college as he raced the TMBRA series. He currently holds a master's cat 1 racer with USA Cycling and a road cat 3 license. He got his USA Cycling coaches license in 2018 and working to complete his full coaching certifications with NICA in 2021. His favorite cycling memory is every ride with my son and the amazing friendships he has made over a lot of miles.
The Highland Park Scots ride on Wednesday at 4:15 and Sundays at 3:30 at Harry Moss Trail or at Burleson Park on the backside of SMU if the trails are wet. We plan to introduce a week day practice as the daylight allows. However, riders have the option to join any of the practices listed below to get extra time on the bike and meet some of the other coaches and riders from across DFW.
Thank you to our sponsors